Shaping the Future of Chilliwack Proper and Fairfield Island Residential Neighbourhoods
Couldn't make the public meeting on September 20?
It's not too late to get involved! An online survey will go live in the next 2 weeks.
In the meantime, review key public meeting materials including the meeting presentation and display boards. Tell us what you think by sending us your comments and questions to planning@chilliwack.com, or give the planning department a call at 604.793.2906.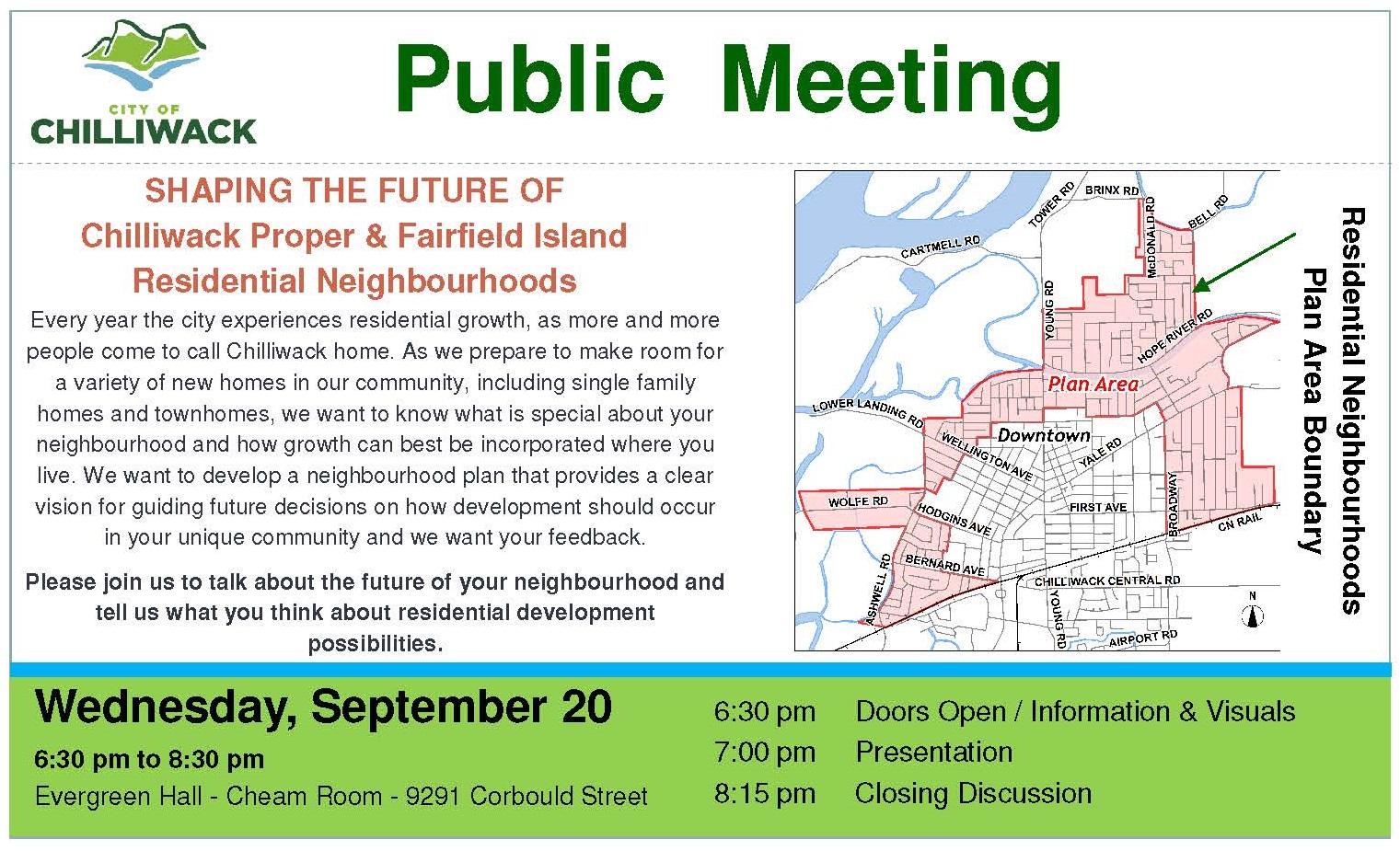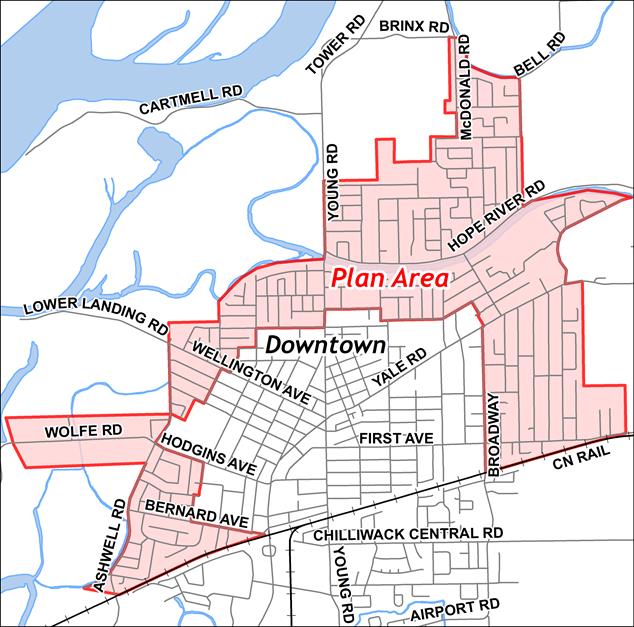 The City is undertaking a neighbourhood plan to provide a clear vision for guiding future decisions on infill growth and redevelopment. To make room for new homes as the population of the City grows, larger properties are being subdivided into two or more lots, or in some cases townhouses are added. Given this residential infill and redevelopment, a planning process is underway to develop a plan on how this type of development should occur for best fit within the residential areas of Chilliwack Proper and Fairfield Island.
The City's Infill Development Policies were established in 2011, to guide decision-making concerning rezoning and new zone proposals within existing neighbourhoods, to ensure infill development and higher density is added in a manner that is in keeping with and enhances existing neighbourhoods. Drawing on the intent of the Infill Development Policies, the neighbourhood plan for Chilliwack Proper and Fairfield Island will take a closer look to create a long term vision and policy framework unique to these neighbouhoods for guiding future growth and development.
Project Timeline
Here is our process and anticipated milestones.
SUMMER 2017 - BACKGROUND RESEARCH
What we did:
Various advisory committees and departments met to discuss the project and provide feedback.

On September 5, invitations were mailed out for the upcoming Public Meeting to be held September 20 to everyone within the neighbourhood plan area boundaries. Over 6,500 people were notified.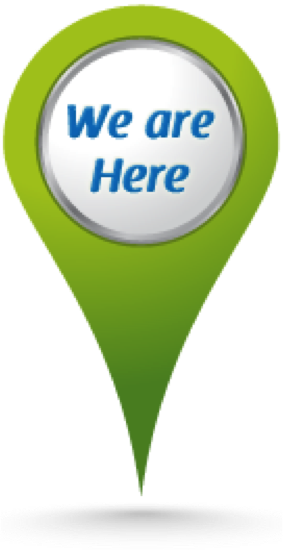 What we're doing:
Public Meeting September 20, to talk about the future of Chilliwack Proper and Fairfield Island Residential neighbourhoods and residential development possibilities. The public consultation process is to identify ideas, interests, and opportunities in the planning area boundary concerning land use and development possibilities.

Online survey to go live.
FALL 2017 - DRAFT PLAN
What we'll create:
Based on feedback, after receiving input from the online survey and public meeting, a draft plan of land use and development design concepts will be prepared.
Who we will consult with:
The public and stakeholders.
WINTER 2017 - FINAL PLAN REVIEW
What we'll do:
Present the plan to City Council to consider and approve.

Draft required changes to the Official Community Plan, Zoning Bylaw and other related documents.
Get Involved
Get involved and provide feedback. Participate in the September 20 Public Meeting or participate in the upcoming online survey.
Public Meeting Wednesday, September 20, from 6:30 pm to 8:30 pm at the Evergreen Hall at 9291 Corbould Street.
Display boards and maps illustrating project information and development scenarios will be displayed. A brief presentation will start at 7:00 pm. Following the presentation, feel free to move around the room and visit the information tables and storyboards. Chat with City staff and others about the project and most importantly, tell us what you think! This is the invite we mailed to everyone within the plan area boundary.
For additional information please contact the Planning Department at 604.793.2906.