Updates from Chilliwack City Council
For more updates on City news, sign up for our monthly e-newsletter.
October 15, 2020 – New Rectangular Rapid Flashing Beacon Crosswalks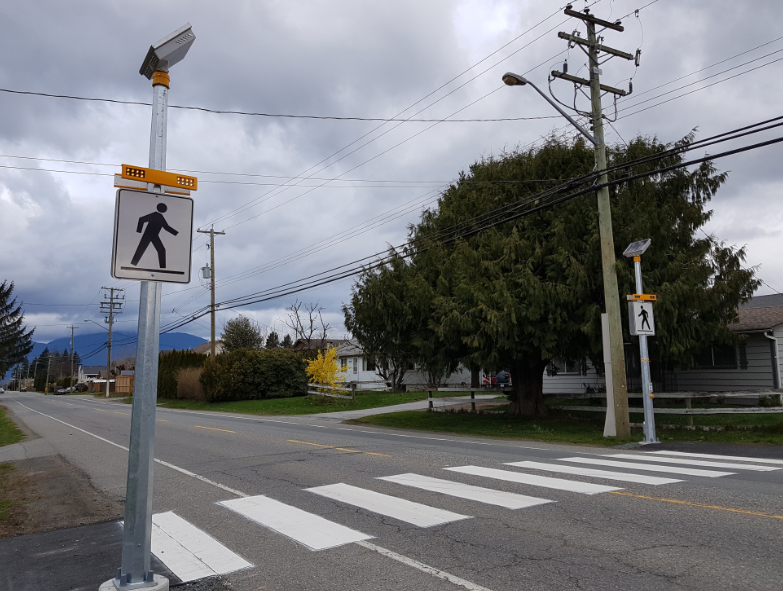 Since their initial installation in our community, we have received numerous requests from all corners of the community for more rectangular rapid flashing beacon (RRFB) crosswalks. Last week, we approved funding and a contractor to install RRFBs at 20 new locations throughout Chilliwack.
Our 2016 Pedestrian Plan recommended RRFB signals at various sites in Chilliwack, and the City has been installing three to four RRFBs per year since. Because of the positive response from the community and high volume of requests for additional RRFBS, we have increased the 2020 capital budget to provide funding for 20 locations. These 20 sites have been reviewed and prioritized to include location recommendations from the 2016 Pedestrian Plan, as well as public requests as warranted. A list of locations is below.
| | | |
| --- | --- | --- |
| Item | Road | Location |
| 1 | Watson Road | Watson Elementary |
| 2 | Tyson Road | Cumberland Avenue |
| 3 | Yale Road | Carleton Street |
| 4 | Wellington Avenue | Hamilton Street |
| 5 | Stevenson Road | Higginson Road (W) |
| 6 | Wolfe Road | Townsend Park |
| 7 | Knight Road | Luckakuck Creek |
| 8 | First Avenue | Charles Street |
| 9 | Chilliwack Central Road | Charles Street |
| 10 | South Sumas Road | Dover Street |
| 11 | Brooks Avenue | Elm Drive |
| 12 | Yale Road | Veterans Memorial Park |
| 13 | Main Street | Veterans Memorial Park |
| 14 | Manuel Road | Sheffield Way |
| 15 | Yarrow Central Road | Community Street |
| 16 | Meadowbrook Road | East of Midtown Way |
| 17 | Young Road | Hope River Bridge |
| 18 | Teskey Way | Jinkerson Road |
| 19 | Thomas Road | Clover Drive |
| 20 | Bernard Avenue | Edward Street |
Where RRFBs are installed, minor curb, gutter and sidewalk improvements will be made as required. Yale and Carleton will also receive additional delineators to help guide motorists and improve road safety at this crosswalk leading to Little Mountain Elementary.
Improving pedestrian safety is important to Council. To learn more about current transportation projects in Chilliwack, visit chilliwack.com/transportationprojects. To request a location be considered for a RRFB signal, please contact engineeringinfo@chilliwack.com.
-Mayor Popove and Councillors Kloot, Knott, Lum, Mercer, Shields and Westeringh
September 16, 2020 – 2020 Park Projects
| | |
| --- | --- |
| | |
| Fern Park | Watson Park |

Few faces in bigger spaces has been the mantra for 2020. As outdoor recreational opportunities have become even more important, the City has invested heavily in improvements to our community parks, trails and blueways.
This year, we worked hard to install new playground equipment at a number of different parks, including Fern, Hazel, Hill, Jinkerson, Laurelwood, Maple, McCutcheon, Sunset View, and Watson Parks.
In early 2000, the City put in place an annual program to reinstall up to date equipment in all parks that had equipment removed at that time due to new CSA safety standards. The plan was to balance timeliness and cost to the community. With the installation of several of the playgrounds listed above, this replacement program is officially complete, and parks will be evaluated for new equipment based on play structure age, condition, and neighbourhood needs.
In addition to these playgrounds, downtown Chilliwack received a new park at the corner of Reece and Mellard, outdoor fitness equipment was added to Jinkerson Park, Kensington Park received an outdoor sport court for hockey and pickleball, Yarrow Pioneer Park saw safety and parking improvements near the skate park, and construction on the new pump track facility at the Landing is scheduled to begin in October.
Partnerships have also played a large role in our parks projects this year. Thanks to a community partnership with the City, Promontory Heights Elementary School PAC, School District #33 and the Rotary Club of Chilliwack Fraser, the playground at Promontory West Park has been expanded and now features an inclusive play area for children of all ages and abilities. Working with the Fraser Valley Regional District, eight locations along the Experience the Fraser trail section in Chilliwack received maps, information kiosks, and benches.
Alongside our park upgrades, we have completed a number of new blueway access points along the Camp-Hope Slough. Blueway access points are locations where local waterways are easily accessible, which helps provide additional recreational opportunities in the community.
While summer may be ending, there is still lots of time to get outside and enjoy our green spaces. We hope you'll take some time this fall to explore a new park near you.
-Mayor Popove and Councillors Kloot, Knott, Lum, Mercer, Shields and Westeringh
August 20, 2020 – Pilot Project for Responsible Liquor Consumption in City Parks

As we move through a unique summer, we have all seen the importance of finding ways to enjoy social connections safely. We know from Dr. Bonnie Henry that outside is safer than inside, and we want to help foster these opportunities for safe social connections.
At our August 4, 2020 meeting, we initiated a pilot project for responsible drinking in designated spaces at two City parks: Vedder Park and Crossing Park. This pilot project will run until October 31, and will allow adults to responsibly enjoy an alcoholic beverage in these areas from noon to 9 pm each day.
We know there are concerns about sharing these parks between different users. The boundaries of each area will be marked by fencing and signage will clearly display the hours of operation, boundaries and rules of use. No glass bottles or containers will be allowed. Signage to remind residents of the importance of physical distancing will also be installed, and staff will monitor use of these designated areas as part of their regular patrols.
Feedback from the community is a vital part of any pilot project. As we initiated this project, we launched a preliminary survey to hear your initial thoughts and concerns. That survey is available online until August 23 at chilliwack.com/engage. Later this year, we will be seeking further feedback from you about your experiences in these parks during the pilot.
We hope that anyone using these spaces enjoys them responsibly and we look forward to hearing from our community about this project.
-Mayor Popove and Councillors Kloot, Knott, Lum, Mercer, Shields and Westeringh
July 16, 2020 – Chilliwack Pump Track Facility
Canada currently has 13 paved pump tracks, and the City of Chilliwack is about to add to that list. At our July 7, 2020 Council meeting, we awarded the contract for a pump track facility at the Landing to Velosolutions Bike Parks Canada, and planning is already underway. In 2019, we received additional one-time gas tax revenues and selected this exciting project to fund.
A pump track is a paved, looping circuit designed for bikes, scooters, skateboards, and more. The rollers along the track allow riders to build and carry momentum, rather than pedaling. With around 500 linear metres of track and a tunnel crossover, this facility will put Chilliwack on the map as it allows us to host both national and international level events. Once completed, our proposed pump track will be the largest in North America.
The customized design of this facility will lend itself to riders of all ages and experience levels. The design will feature a main starting platform and seven additional starting points. This will allow riders to make seven different travel patterns and help us attract major competitions to our city.
We also made the decision to incorporate artificial turf into this design in order to create an all-weather, year-round outdoor reactional facility, increasing durability and reducing maintenance costs and water consumption.
Site surveying and design work will be carried out through July and August, with construction in September and an anticipated opening in early November. Staff on this project team will be supported by design and construction personnel from Velosolutions Italy and Switzerland.
We look forward to watching this project unfold and seeing how it benefits Chilliwack!
- Mayor Popove, Councillors Kloot, Knott, Lum, Mercer, Shields, and Westeringh