Speed Watch
What is Speed Watch?
Speed Watch is an educational program designed to raise public awareness of the actual speeds drivers are traveling. It is hoped that drivers will choose to voluntarily slow down to the posted speed limit when they see their actual speed posted on the reader boards.
The Speed Watch program is conducted in partnership with the RCMP, citizen volunteers and ICBC.
Speed Watch checks are operated using portable radar equipment and an electronic digital board. Volunteers monitor speeds along main corridors, neighborhoods, particularly school and playground zones.
This information is then passed onto the Police along with license numbers of those traveling in excess over the posted speed limit. As a result, vehicle owners may receive warning letters in the mail.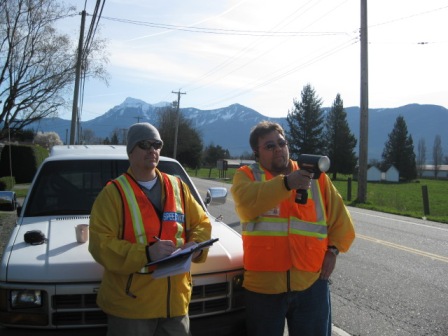 Join Speed Watch
Chilliwack Speed Watch is looking for more dedicated people. If you are between 19 and 70 years of age with a clean driving record and can pass a security clearance, we would like to hear from you.
In addition, if you have a specific concern about traffic in your area, please contact Chilliwack Crime Prevention Services.
ICBC Safety Campaign
We can all do our part to help make B.C. roads safer by leaving our phones alone when behind the wheel. Please visit the link below for tips, common misconceptions, links to free ringtones, and a television ad.
http://www.icbc.com/road-safety/safety-campaigns
Chilliwack Crime Prevention Services
Hours of Operation: Monday to Friday 0900 - 1600
45877 Wellington Avenue
Chilliwack, BC V2P 2C8
Phone: 604.393.3007